Khan Yunis (Gaza Strip) – Israeli aircraft bombed Gaza City overnight and into Sunday, with ground forces bombing it. It clashed with Hamas fighters Near the province's largest hospital, where health officials say thousands of doctors, patients and displaced people are trapped without power and dwindling supplies.
In a televised speech on Saturday, Prime Minister Benjamin Netanyahu rejected growing international calls for a ceasefire unless it included the release of all 240 hostages captured by Hamas. In the rampage of October 7 Who ignited the war, saying that Israel would use its "full force" in the battle.
Israel has pledged to end Hamas's 16-year rule in Gaza and crush its military capabilities, while blaming the militants for the heavy losses inflicted on the Strip's 2.3 million Palestinians trapped in the Strip. But it has come under increasing international pressure over the plight of civilians.
In Gaza City, residents reported intense air strikes and artillery shelling during the night, including In the area surrounding Al-Shifa Hospital. Israel, without providing evidence, accused Hamas of hiding a command center inside and under the hospital compound, allegations denied by Hamas and hospital staff.
Ahmed Al-Barash, one of the residents who took refuge in the hospital, said: "We spent the night in a state of panic waiting for their arrival." "They're outside, not far from the gates."
Hospitals are out of service
The hospital's last generator ran out of fuel on Saturday, leading to the deaths of three premature babies and four other patients, according to the Hamas-controlled Gaza Health Ministry. She says another 36 children are at risk of death due to the power outage.
Undersecretary of the Ministry of Health, Mounir Al-Barsh, said that Israeli snipers were deployed in the vicinity of Al-Shifa, and were shooting at any movement inside the complex. He said that the air strikes destroyed several houses next to the hospital, killing three people, including a doctor.
"There are wounded people in the house and we cannot reach them," he told Al Jazeera in an interview from the hospital. "We can't stick our heads out the window." It was not clear whether he was related to the other man with the same surname.
The Israeli army said there was a safe passage to evacuate civilians from Shifa to southern Gaza, but people taking refuge in the hospital said they were afraid to go out. The army said that troops would help transport the children on Sunday, and that it was in contact with hospital staff.
It was not possible to independently confirm the situation in and around the hospital.
The Ministry of Health says there are still 1,500 patients at Al-Shifa Hospital, along with 1,500 medical workers and between 15,000 and 20,000 people seeking shelter. Thousands have fled Al-Shifa Hospital and other hospitals, but doctors said it was impossible for everyone to get out.
The Palestinian Red Crescent Rescue Service said that another hospital in Gaza City, the Red Crescent-run Al-Quds Hospital, "is no longer operational" because it has run out of fuel. Gaza's only power plant was forced to stop operating a month ago, and Israel banned fuel imports, saying Hamas would use it for military purposes.
Nibal Farsakh, spokesman for the Red Crescent, said that 6,000 people, including displaced families, patients and medical staff, are still trapped in the hospital.
Muhammad Zaqout, director of hospitals in Gaza, said that the Ministry of Health had not been able to update the death toll since Friday, as medics were unable to reach areas hit by Israeli bombing. He added: "The situation is very tragic." "Ambulances are unable to reach people under the rubble."
With no access to Al-Shifa and other hospitals, people taking refuge in Gaza City said they were cut off from emergency care. Heba Maslah, who was sheltering in a UN compound with thousands of families, said a raid late Saturday killed four people and wounded 15 others.
"The wounded are bleeding and no one can come to help them," she added, adding that the dead were buried inside the complex. The United Nations Development Program confirmed that one of its compounds had been infected. UN agencies have been unable to provide services in the north for weeks.
Netanyahu rejects the American post-war vision
Netanyahu said that responsibility for any harm to civilians lies with Hamas. Israel has long accused the group, which operates in crowded residential neighborhoods, of using civilians as human shields.
He added: "I would say that the ground offensive that we have begun actually reduces the number of civilian casualties because the population, the civilian population of Gaza, is responding to our call to evacuate the territory, the combat zone, and get out of harm's way." He told NBC's "Meet the Press."
On Saturday, Netanyahu began laying out the broad outlines Israel's post-war plans in GazaThis sharply contradicts the vision put forward by the United States.
Netanyahu said that Gaza would be demilitarized and that Israel would retain the ability to freely enter Gaza to pursue militants. He also rejected the idea that the Palestinian Authority, which currently administers parts of the Israeli-occupied West Bank, would at some point take control of Gaza. Hamas expelled Palestinian Authority forces from Gaza during a week of street battles in 2007.
Secretary of State Antony Blinken said the United States opposes this Israel's reoccupation of Gaza It envisages the formation of a unified Palestinian government in both Gaza and the West Bank as a step towards establishing a Palestinian state. Even before the war, Netanyahu's government was strongly opposed to the establishment of a Palestinian state.
the war It threatens to ignite a broader conflict With Israel and Hezbollah militants in Lebanon repeatedly exchanging fire along the border. Hezbollah fired anti-tank missiles at Israel on Sunday, and Israel responded with artillery and fighter jets. The Israeli Electricity Company said that workers repairing lines damaged in previous attacks were injured, and video footage showed two cars on fire.
Evacuation windows, but no stops
The United States also called for a temporary pause that would allow much-needed aid to be distributed to civilians in the besieged area, where conditions are unfavorable. It became increasingly dire.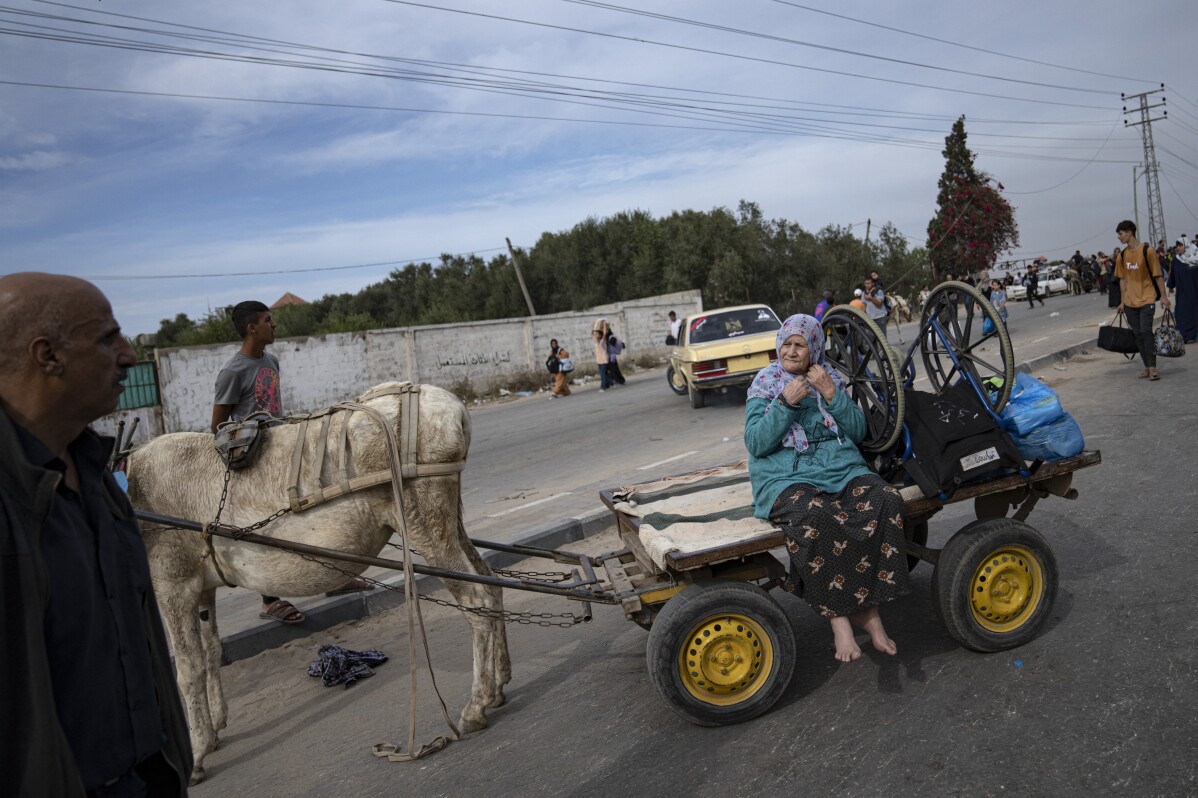 But Israel did only that Agree to short daily intervals During which civilians can flee the ground combat zone in northern Gaza and head south on foot along two main roads linking north to south. Meanwhile, Israel is bombing what it says are militant targets in southern Gaza as well, often killing women and children.
Dozens of wounded people, including children, were transferred to a hospital in Khan Yunis after an Israeli air strike destroyed a building in the southern town. Hospital officials said at least 13 people were killed.
The war led to the displacement of more than two-thirds of Gaza's population, most of whom fled to the south. Egypt allowed hundreds of foreign passport holders and patients to exit through the Rafah crossing, as well as some humanitarian aid to enter.
More than 11,000 Palestinians, two-thirds of them women and minors, have been killed since the start of the war, according to the Ministry of Health in Gaza. No difference Among the dead among civilians and soldiers. About 2,700 people were reported missing and believed to be trapped or dead under the rubble.
At least 1,200 people have been killed on the Israeli side, most of them civilians killed in the initial Hamas attack. 46 Israeli soldiers have been killed in Gaza since the start of the ground offensive.
About 250 thousand Israelis They had to evacuate And from communities near Gaza, where Palestinian militants are still firing barrages of rockets, and along the northern border with Lebanon.
___
Magdy reported from Cairo. Associated Press writers Amy Table in Jerusalem, Karim Chehayeb in Beirut and Abby Sewell in Beirut contributed to this report.
___
Complete AP coverage at https://apnews.com/hub/israel-hamas-war.
"Infuriatingly humble analyst. Bacon maven. Proud food specialist. Certified reader. Avid writer. Zombie advocate. Incurable problem solver."