Wayne Shorter, one of America's greatest jazz saxophonists, whose career spanned pop, fusion and more, has died in a Los Angeles hospital at the age of 89. His death was confirmed by a publicist to the New York Times.
Shorter was a central force in three of the greatest jazz groups of the 20th century: The Jazz Messengers, led by drummer Art Blakey, established the mid-century "hard bop" style; the second iteration of the mid-to-late 1960s Miles Davis quintet that catapulted Davis into his electric period; and the highly successful merger group Weather Report, formed in 1970.
He also forged a long and fruitful partnership with Joni Mitchell, appearing on 10 of her albums, and collaborating with rock musicians such as Carlos Santana and Steely Dan. He is an 11-time Grammy Award winner, as well as a Lifetime Achievement Award recipient.
Born in Newark, New Jersey, in 1933, Shorter began playing clarinet at age 15, eventually concentrating on tenor and soprano saxophones. He and his brother Alan, who became a jazz musician, were both fascinated by the bebop they heard on the radio: "We didn't like to consciously say, 'Oh, this sounds like some of that stuff in science fiction movies,'" but I think it's something that's in science fiction movies, Shorter said later. "[Charlie] Parker, Dizzy Gillespie, Thelonious Monk… have taken Captain Marvel's place."
After learning his craft in high school he studied music education at the university, and after two years in the army, he played with it Division Commander Maynard Ferguson Before being hired by the Jazz Messengers in 1958, he played alongside Blakey, Lee Morgan, Freddie Hubbard, and others during his tenure. He composed several pieces for the group and eventually became musical director, but after a number of attempts he was hired away by Miles Davis in 1964.
Davies' first great quintet, featuring John Coltrane, Bill Evans and more as personnel changed, recorded classics including Kind of Blue, but by 1963 he was struggling to maintain a cohesive lineup. Luxor was part of a clean slate with Herbie Hancock on piano, Ron Carter on bass, Tony Williams on drums, the band whose flat, free-thinking hierarchy has produced albums increasingly adventurous: Filles de Kilimanjaro, Sorcerer, Miles Smiles and more. Shorter contributed to several compositions including the title tracks of the Nefertiti and ESP albums, remaining after the quintet broke up in 1969 for another Davis masterpiece that year, A Silent Way.
Beginning in 1959, Shorter also released solo albums including Speak No Evil, Night Dreamer, and the acclaimed JuJu all recorded in 1964. Like Davis, his playing became freer and more harmonious and began to fuse with rock, Latin, and other styles, resulting in forming his next group, Weather Report.
Co-led with keyboardist Joe Zawinul, and supported by many other musicians during their 16-year span, including guitarists Jaco Pastorius and Miroslav Vitoš, they blended jazz with funk and R&B grooves, with Luxor returning to melodic playing. This accessible mix was a huge commercial success: 1977's Heavy Weather went platinum and reached the Top 30 in the US.
Shorter's affinity for fusion meant that he also performed saxophone solos on two soft rock hits, Steely Dan's Aja and Don Henley's The End of the Innocence, the latter reaching No. 10 in the US. He also played on the Rolling Stones' 1997 album Bridges to Babylon.
His collaborations with Joni Mitchell began with her 1977 album Don Juan's Reckless Daughter, with Saying shorter in 2013: "She had the feeling that I had joined her as a painter. She loves drawing and majored in fine art before music. And she said, 'You play like you have a paintbrush, you know'… She'll pick from different takes to edit it like she's using a paintbrush."
He paired with fellow Davies co-star Herbie Hancock for the Charles Mingus-inspired Mitchell album Mingus in 1979, and Shorter and Hancock would collaborate frequently over the following years. In the late 1970s, they joined forces with longtime Davis quintet as VSOP, with Freddie Hubbard on trumpet, and recorded the 1994 Grammy-winning album A Tribute to Miles after Davis' death, with Wallace Rooney on trumpet.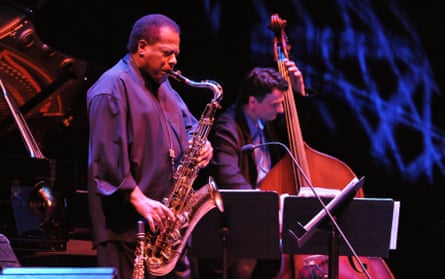 They later won another Grammy Award for the 1997 song Aung San Suu Kyi, named after the Burmese politician, and formed supergroup Mega Nova with Carlos Santanawith whom Shorter collaborated in 1988. They too I played a special concert for Barack Obama's 50th birthdayand played an International Jazz Day concert at the White House in 2016 alongside Aretha Franklin and others.
Hancock once said of the Second Great Quintet: "The chief writer for me, on that group, was Wayne Shorter. Still a master. Wayne was one of the few people who brought music to Miles and it didn't change."
Shorter continued to work with respected young jazz musicians into his old age, including Terry Lynn Carrington and Brad Mehldau, forming a quartet under his own name in 2000. He eventually retired from live performance due to ill health, but in his late 80s composed an opera, Iphigenia, With a libretto by American jazz-fusion guitarist Esperanza Spalding.
Shorter has been married three times, first to Teruko Nakagami in 1961, with whom he has a daughter, Miyako. He married his second wife, Ana Maria Patricio, in 1970, who introduced him to Buddhism, and they had a daughter, Esca, who died of an epileptic seizure aged 14 in 1985.
Shorter faced another tragedy when Patricio died along with the couple's niece and 228 others in the explosion of TWA Flight 800 in 1996 off Long Island, New York. "I'm going to find something," he said the following year, regarding his music, and it was as if I could feel my wife's voice saying, "Don't repeat, do something different." Like Eternity's Gate. It's like she's saying, 'Do your thing – that's how we find each other forever.' And he married again in 1999, to Carolina dos Santos.
In 2017, he was awarded a Polar Music Award, and in 2018, he was honored by the Kennedy Center, with Spalding saying he was "long overdue… It's really nice to amplify his magic on such a scale".
In 2013 he was honored with the Lifetime Achievement Award from Thelonious Monk Institute Jazz (now the Hancock Institute of Jazz), telling the audience his vision of the music industry: "Try to make how you wish the world was forever; take off the layers and become who we really are, forever."
"Lifelong beer expert. General travel enthusiast. Social media buff. Zombie maven. Communicator."