Designs for bank notes featuring an image King Charles III It was unveiled by the Bank of England, with plans to enter circulation by mid-2024.
Announcing the design for the first time in the run-up to the coronation in May, the Bank of England announced that the monarch's image would appear on the current designs of all four polymer banknotes currently in circulation – the £5, £10, £20 and £50 notes.
The king's image will appear on the front of the banknotes, as well as in the transparent security window on the polymer plastic banknotes. Notes are distinguished Queen Elizabeth II It will also remain legal tender, allowing the public to continue using it as normal.
Threadneedle Street said the plans had been drawn up as directed by the royal family to minimize the environmental and financial impact of the change by printing only new banknotes to replace worn out notes, and to cater to any general increase in demand for currency.
This means viewing notes Queen Elizabeth II It said King Charles III would "share the distribution".
King Charles will become only the second monarch to appear on a Bank of England UK note. Although the Bank of England has produced paper money since the late 17th century, a resemblance to the reigning monarch first appeared in a 1960 issue by the bank, when a £1 note featuring Queen Elizabeth II was introduced for everyday use. However, coins have marked the monarch for centuries.
The Queen's head also appears on $20 bills in Canada, on coins in New Zealand, and in some other Commonwealth countries.
The use of physical currency has declined steadily in recent years amid the rise of card and contactless payments. However, more than 4.7 billion Bank of England notes featuring the Queen are still in circulation, worth around £82 billion.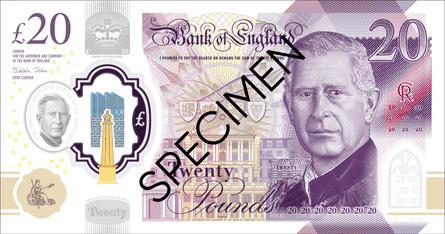 It follows the phasing out of paper banknotes and the introduction of those printed on polymer – a thin, flexible plastic material – since the introduction of the £5 note that appears on the back of Winston Churchill in 2016.
Although the banknote designs unveiled by the bank will feature a new portrait of the monarch, the reverse side will remain unchanged, with author Jane Austen placed on the £10 note, artist JMW Turner on the £20 bill and computer scientist Alan Turing On the £50 note. Security features, including holograms and plastic windows, will also remain unchanged.
The release of the note will be one of the most significant changes to royal codes since the Queen's death in September; side by side New coinsStamps and King CR monogram For use on state documents and mailboxes.
Andrew Bailey, Governor of the Bank, said: "I am very proud that the Bank is launching the design of our new banknotes, which will feature an image King Charles III. This is an important moment, as the king is only the second king to appear on our banknotes. People will be able to use these new notes when they start trading in 2024."
"Infuriatingly humble analyst. Bacon maven. Proud food specialist. Certified reader. Avid writer. Zombie advocate. Incurable problem solver."